"Immerse yourself in our Yoga and Mindfulness for Kids and Teens Yoga Teacher Training from the comfort of your own home."
This online course includes age-appropriate yoga and mindfulness for children and teens to support you on your journey with yoga on the yoga mat or classroom environment. This course will give you the much-needed skills, knowledge, resources, and confidence you will need to start teaching yoga to kids today!






"You have brains in your head. You have feet in your shoes. You can steer yourself any
direction you choose. You're on your own. And you know what you know.
And YOU are the one who'll decide where to go…"
- Dr Seuss


By undertaking this Online 50HR Immersion & Teacher Training into Yoga and Mindfulness for Children and Teens yoga teacher training, you will know the following areas:
👉🏾 Breathing: Breathing practices (energizing and calming breaths )
👉🏾 Postures: Mat based yoga movements - Learn how to communicate the pose, when, and how to use the pose. Yoga poses for the energetic body and sensory processing as well as mobility and modifications. 
👉🏾 Yoga for classrooms: Chair based yoga movements. 
👉🏾 Childhood Development: Learn how yoga supports growth and development. Learn essential motor skills needed for academic success.
👉🏾 Emotions: Learn how yoga can help manage emotions 
👉🏾 Focus activities: Single pointed focus to build focus and attention.
👉🏾 Resting activities: Practices to calm the nervous system.
👉🏾 Flow Yoga: Sun Salutation. 
👉🏾 Patanjali's 8 Limbs of Yoga: Discussion points and practices to increase mindfulness. 
👉🏾 Group work: Partner poses, Mandala, and age-appropriate games.
👉🏾 Anatomy: Basic anatomy and physiology of the skeletal system, nervous system, endocrine system, respiratory system, and digestive system of children and teens. 
👉🏾 Yoga for special needs: Understand ADHD, Autism, Down Syndrome, Asthma, and Primitive Reflexes. 
👉🏾 The energetic body: The Chakra System. 
👉🏾 Storytelling and sequencing: Learn how to create kids yoga lessons based on Howard Garners Learning Styles. 
What you will receive: 
A 50hr YACEP Yoga Alliance certification as a Kids Yoga Teacher upon full completion of the online training. 

A 40 page, fully illustrated with succinct instructions digital card deck. This contains topics such as breathing, focusing, relaxing, sun salutations, chakras and chair yoga poses. 

Beautifully illustrated worksheets to use in your kid's yoga lessons. 

Lesson plans outline

Access to our private online kid's yoga support group.
Are there any course requirements or prerequisites?
There are no requirements to take this online course. Anybody can teach kids yoga!
Who this course is for:
A yoga instructor who would like to offer kids yoga classes. 

A classroom teacher who would like to include yoga and mindfulness activities into your daily classroom routine. 

A parent who wishes to learn how to teach yoga and mindfulness to share with your children.
Or somebody with NO prior yoga experience and would love to teach yoga and mindfulness to kids and teens. 
How does the online course works?
This course is a flexible online course. Its is a self-paced and optional Instructor lead.
Self- Paced:
There are modules for you to work through at your own pace, including a downloadable manual, reflection exercises, voice recorded slides, and videos. 
You can log into the course whenever you have time to work on it! Upon completing all modules, you will have reflection assignments to hand in, and your final homework is to create a kid's yoga lesson plan. 
All work will be handed back to you with feedback and suggestions within 14 days. 
After you complete all modules, you'll receive your PDF version of your 50hr yoga alliance certified certificate.
Optional Instructor lead:
- Each week for eight weeks, you will be able to participate in a 2 hour live Q&A community discussion via Zoom. 
Live check-ins will be held every Friday at 6:00 pm ( central Indonesian time ) Beginning on 5 June - 24 July. 
All check-ins are recorded for you to listen to in your own time. 
How long do I have to complete the course?
The course is self-paced, you can take as long as you need! I recommend trying to finish within six months to 1 year, so the information stays fresh in your mind.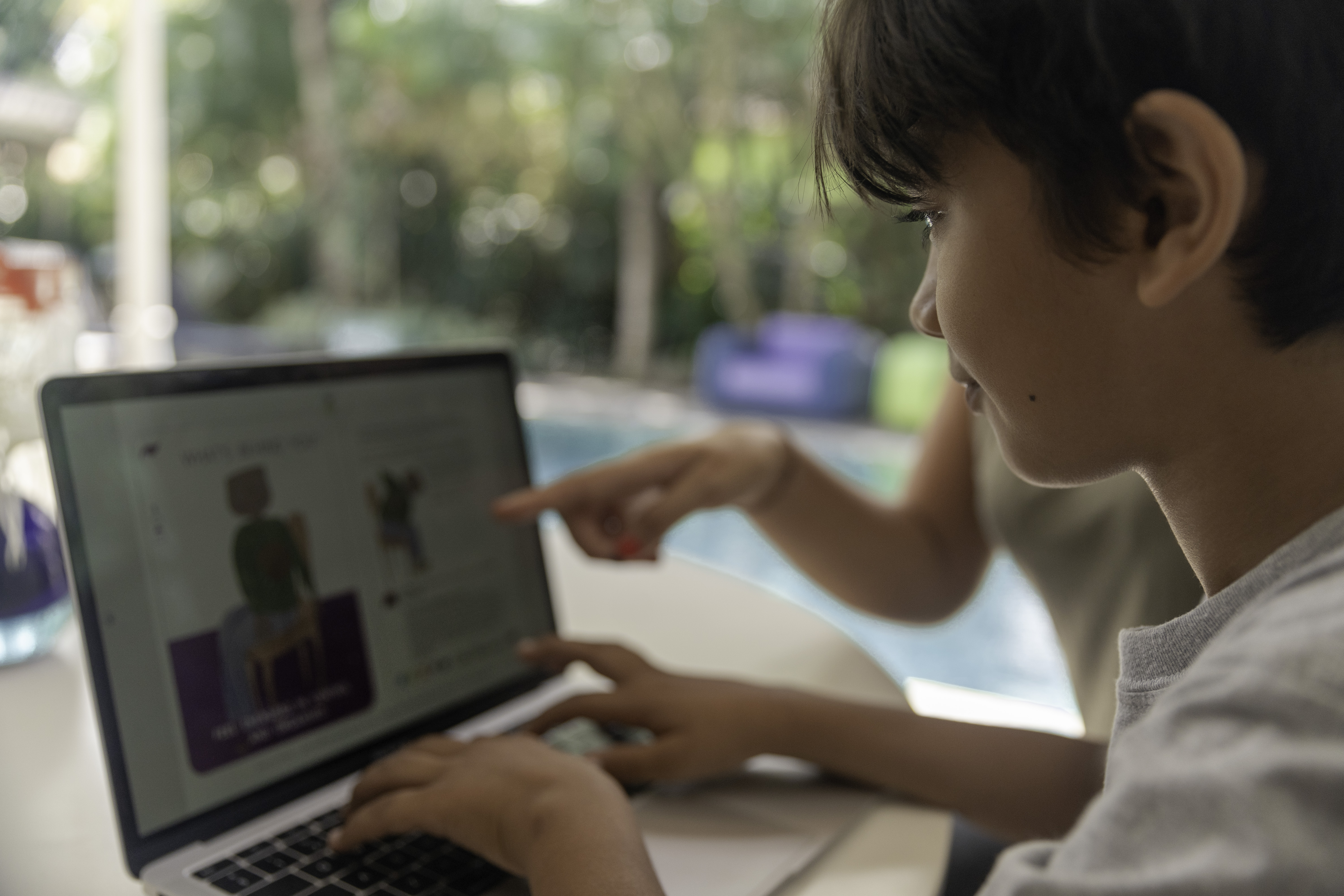 "Invest in yourself in a way that would benefit children for years to come."

In collaboration with the MTC BALI, a non-profit organisation created to enhance the daily lives of children and families affected by physical and mental disabilities, we donate 15 percent of the training profits.
Meet Jeanne
Created from my own childhood trauma to give children the tools I never had growing up… My story begins at Uzenmyethu child care facility, GuGulethu Township, Cape Town, South Africa. All over the world, there is an accelerated growing need for children to learn life skills that could extend beyond the school walls and promote health and wellness in other areas of their life.
Over the past 10 years, I have been working with children with all types of backgrounds, sharing the gift of yoga. Noticing this growing need for change, I wanted to create a training not just for Yoga Teachers, but for Parents, Teachers, Educators and Caregivers, anyone who wants to empower young minds to be in touch with their inner being; anyone who wants to empower young minds to be the best they can be. Anyone who wants to teach children to love who they are, Body, Mind & Soul. Anyone who wants to invest in themselves in a way that would benefit children for years to come.